300W/500W/1000W off Grid Home Solar Panel/Energy/Power System Module
Leadtime:
Within One Week
Trademark:
OEM or Chengan(ourself)
Transport Package:
Package with Carton 1 Set/Carton
Specification:
100w solar panel * 1pcs
          1500W/12V/24V off Grid

Portable Solar Energy Power System

for home       



Product overview:
The solar energy system applies to diversified loads because its digital design,pure sine wave output and excellent overcurrent protection can withstand the loads with a large starting current; the product is provided with independent solar three-stage charge management to improve charge efficiency of its battery and realize a longer life;
The product provides universal 5VDC-USB output port and 12VDC output to be widely applied to small solar power generation occasions including families,schools,streets monitoring,forest monitoring,industrial and mining enterprises,frontier defense,sea islands,pasturing areas,etc.
Main fe
atures:
1. Excellent performance because of an MCU intelligent control technology;
2. A wide range of applicable loads because of pure sine wave AC output
3. Convenient and practical 5VDC-USB output port and 12VDC output port
4. Solar array and battery common-anode system input
5. Charge by mains supply for flexible configuration (optional function)
6. Overcharge protection and overdischarge protection for a longer battery life
7. Digital meter and LEDs for visualization of operation status of the equipment
8. Overall automatic protection and alarms including AC input overload protection,short circuit protection,etc.
 
Solar Power System 500w Inverter 



 
Built-in Inverter:500W(Sine wave)220V
Solar Panel:100 W/18V * 1pcs with 5 Meters charging cable
Built-in 10A 12V Solar Controller
Built-in Battery 65AH/12V * 1 pc
LED Lamp:5w/12v * 2 pcs with 5M cable(on-off switch)
 
Support machine:(power rating below 1000w)
Light
TV
Fan
Computer
Mobile
Wash machine
etc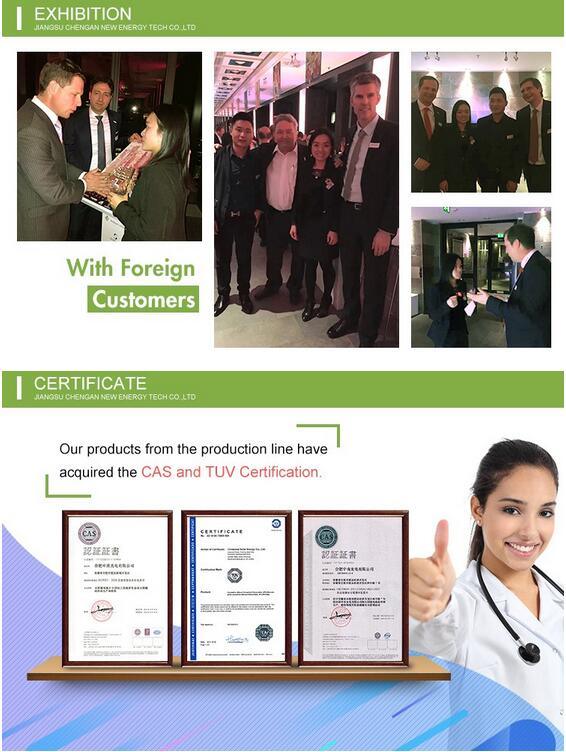 FAQ
Q: What can be included for this system from Chengan? 
A: This system includes: Solar panels, PV array combiner, Solar inverter with MPPT solar controller build in, lead-acid AGM free mainentance battery, solar panel rack, cables., etc. 
Q: What's the advantage for this solar system from Chengan?
A: 1. 
Installation support. 
2. The most advantage: On grid energy backup(not means sell electricity, just backup)
3. CE RoHS Certified
4.100% high quality materials
5. Have Open factory in local. --Best after sales service! 
Q: Is the system solution always the same? Can I customize one? 
A: Yes we have our professional teams making solutions for our clients. Solutions are mainly customized based on different sunshine time and power consumption. So the 1kw system may be with different configuration. 
Q: Is the solution for complete set? If not, what else are needed? 
A: Yes we can provide solution of complete set. If you don't need complete set, basic parts are also available. 
Q: Who arranges the shipping? 
A: We could help you arrange the shipment, we have good service forwarder in Guangzhou and Shanghai. 
Q: What's the difference between off grid and on grid solar power system? 
A: Off grid solar power system doesn't connect to the power grid. In general, it includes solar panels, charger controller, batteries and inverter. This system will store the solar power into the batteries, batteries energy will be converted the electricity power to supply the appliances working through the inverter. 
On grid solar power system connects to the power grid. In general, it includes solar panels, grid-connected inverter, the solar power will be converted the electricity power to appliance working directly. When the solar power is off, the power grid will replenish the electricity power to appliances working. 
Q: Can the inverter switch automatically to national grid to protect batteries. 
A: Yes. It can also connect to third generator like diesel generator. Please tell our sales before production. 
Q: What is the lifetime of the solar power system? 
A: Solar pane
ls' lifetime are 25 years, charger controllers 5~ 7 years, inverters 5~7 years, batteries 6~8 years. 
Q: What is Chengan solar system after sales service? 
A: Durin
g the warranty, Solar panel--ship free new one; Battery-ship the new one, 
Inverter/controller---ship free PCB by DHL or FedEx. 
Q: How about Chengan solar system quality? 
A: We promise our quality materials, and after sales service, also have many project in all over the world, contact our sales get the project picture
Q: What is your trade Asusurance
A: 100% product quality protection
100% product on time shipment protection
100% payment protection for your covered amount
If you have more question, welcome to contact us freely, Choose Chengan, Choose better life,Choose Satisfaction!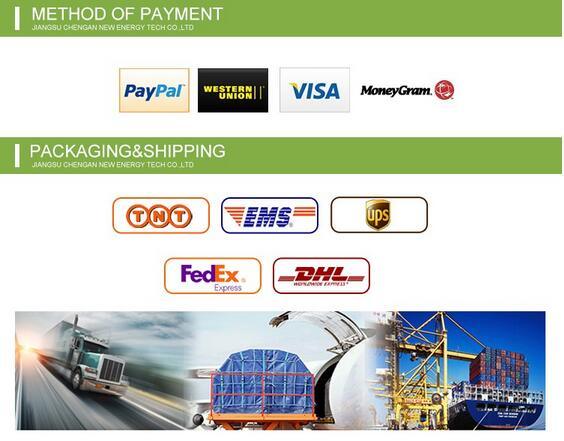 Install Mount,Brass Surface Mount,Tree Mount Plate,Mount Plate For Lighting Fixture
Landscape Lights Pro , https://www.landscapelightspro.com