Industrial Heavy Expanded Metal Mesh
Transport Package:
Pallet
Specification:
ISO9001: 2000
Origin:
Anping County, China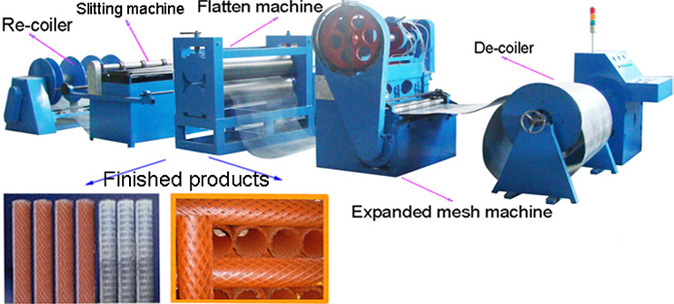 Expanded Metal Mesh
Materials: Stainless steel sheet, low carbon steel sheet, AL-MG alloy plate, copper plate.
Varieties: According to materials, it can be divided into aluminum, small steel plate mesh, steel plate mesh, stainless steel plate. According to the shape of the hole, it can be divided into diamond, square, round, triangle, scale hole.
Features: Economical, durable, one-piece construction, low wind resistance, easy cutting and shearing, excellent weight-to-strength ratio, ventilation properties, available in many styles and materials, screen and guarding properties
Uses: Widely used in industry filteration, building, household such as fencing, drying racks, gratings, flooring, screens, and window guards.
Please feel free to contact us if you do not see what you need, we will help you.
specifications
width
(m)
length
(m)
weight
(kg/m 2 )
mesh thickness(mm)
SWM(mm)
LWM(mm)
Strand(mm)
0.5
2.5
4.5
0.5
0.5
1
1.8
0.5
10
25
0.5
0.6
2
0.73
0.6
10
25
1
0.6
2
1
0.8
10
25
1
0.6
2
1.25
1
10
25
1.1
0.6
2
1.77
1
15
40
1.5
2
4
1.85
1.2
10
25
1.1
2
4
2.21
1.2
15
40
1.5
2
4
2.3
1.5
15
40
1.5
1.8
4
2.77
1.5
23
60
2.6
2
3.6
2.77
2
18
50
2.1
2
4
3.69
2
22
60
2.6
2
4
3.69
3
40
80
3.8
2
4
5.00
4
50
100
4
2
2
11.15
4.5
50
100
5
2
2.7
11.15
5
50
100
5
1.4
2.6
12.39
6
50
100
6
2
2.5
17.35
8
50
100
8
2
2.1
28.26
Shangqiu Jinda Tools Co.,Ltd , https://www.jindameasuring.com