The future of innovation in China's hardware industry

In the future, the goal of China's hardware industry is to pursue Taiwan in the first step, catch up with Europe and the United States in the second step, and sit on an equal footing with the world's advanced level, truly rounding the dream of our hardware power.
After the reform and opening-up of China's hardware history, in the international hardware supply market, due to the rapid development of production technology and the increase in the price of labor, developed countries in Europe and North America transferred universal products to developing countries, producing only high value-added products. Has a strong market potential for hardware tools, so it is more conducive to the development of a hardware tool export power.
After 30 years of hard work, China's hardware industry has become a veritable hardware country. However, at present, China's hardware companies are still facing a transition from a "hardware powerhouse" to a "hardware powerhouse," and they need to develop the wings of branding and industrial regionalization.
Innovative technology and brand is the road to strengthening the country of hardware accessories industry Due to the rapid development of hardware accessories production technology and the impact of high labor costs, developed countries have accelerated the transfer of medium and low-end products to the Third World, and they only produce some high value-added products. . DIY products become the new favorite in the hardware market. In recent years, with the ease of installation and maintenance of the architectural hardware products of developed countries in the United States and Europe, doityourself products and tools have been greatly welcomed by the market.
Hardware accessories innovation technology and brand is the only way to build a strong country of hardware China's hardware products export only earn 3% of total exports, not just the problem of technology content, but more importantly brand issues. The brand includes a lot of content, including services, reputation and so on. Reputation is golden, and honest business is fundamental. If we produce hardware products that don't carry people's brands, but sell them under their own brands, they can also be sold at the same price as OEM sales. Then our GDP does not know how much to turn over. At the same time, to enlarge and strengthen China's hardware industry, the involvement of large consortia is a key factor. Japan's Panasonic and Sony did not originally engage in electrical appliances, but they were a large consortium. After seeing the prospects for the development of household appliances, they all stepped in, and now they dominate the world.
How to create China's own brand commensurate with the hardware accessories market is an issue that we urgently need to address. With the entry of the WTO, a large number of well-known international brands will also be flooded into China. This is what we often call the "wolf." "The wolf is coming" is nothing terrible. The key is that we must have a very good chance to block it. The development of the production and marketing of China's hardware industry must conform to the trend of domestic and international to internationalization, and use new marketing to drive the development of the enterprise and create an international concept. At present, China's hardware products have hardly ever played an international brand. Like Zhejiang Yongkang, although it enjoys a good reputation at home, it is still Zhejiang Yongkang, not China's Yongkang, and has not yet gone abroad. It is believed that after a period of hard work, there will be more and more brands of Chinese hardware products in the international community.
The combination of the market and the industrial region is a problem that cannot be ignored in terms of development needs. That is to say, our hardware manufacturing enterprises must take national interests as their priority and must not engage in unfair competition because of their own interests. China has a vast area. The conditions for the development of the economy in various regions are quite different. The hardware industry also has obvious regions. This is related to China's national conditions and is also a feature of China's hardware industry. At present, the Yangtze River Delta and the Pearl River Delta have become China's fastest growing economic regions. In recent years, the Yangtze River Delta Economic Zone has become the fastest growing area for foreign investment. Under this situation, the Jiangsu hardware industry has a huge advantage. This kind of advantage can be maintained and promoted through the expansion of the hinterland. For the other hardware industrial bases in China, first of all, we must first understand that there are relatively little known issues and that there is competition before development, but the development of hardware industry belts will inevitably adhere to the healthy competition among various industry bands, which will also benefit each The enhancement of the hardware industry in the region and the acceleration of economic growth. The market must be linked to local needs and industrial development. The hardware market cannot be an exception. This is the need for the development of a socialist market economy.
Each year, China exports more than 10 billion US dollars of hardware products (excluding mechanical and electrical products in the concept of general hardware), but it is minimal to really make a profit. This is a matter of great concern for China's hardware industry and a fundamental issue for China's hardware industry. . At present, China's hardware manufacturers' original accumulation and wealth accumulation have not yet reached a certain level. Therefore, it will take a long time to make the hardware accessories industry bigger and stronger. This is inevitable. In the process of internationalization, we have to face challenges. Hardware fittings must first do its own thing, build a good platform, and integrate resources.
Sodium bentonite waterproof blanket- GCL
Part one: Description of GCL waterproof blanket

Geosynthetic clay liners (GCLs) are high performance needle punched environmental reinforced composites which combine two durable Geotextile outer layers with a uniform core of natural sodium bentonite clay to form a hydraulic barrier. Fibers from the non-Woven Geotextile are needle punched through the layer of bentonite and incorporated into the other geotextile (either a woven or non-woven).when hydrated under a confining load, the bentonite swells to form a low permeability clay layer with the equivalent hydraulic protection of several feet of compacted clay.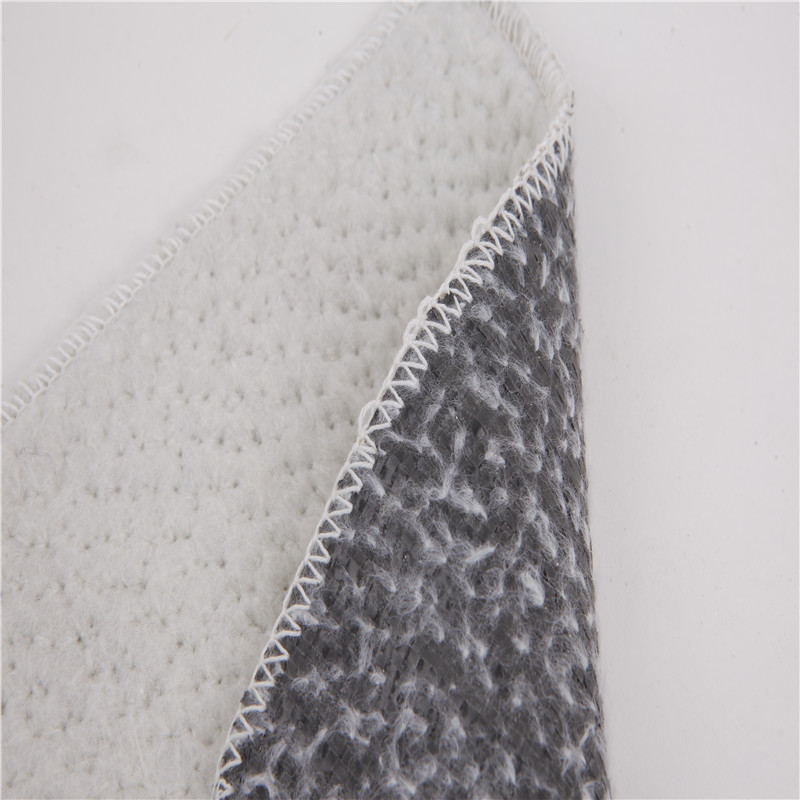 Part Two: Technical of GCL waterproof blanket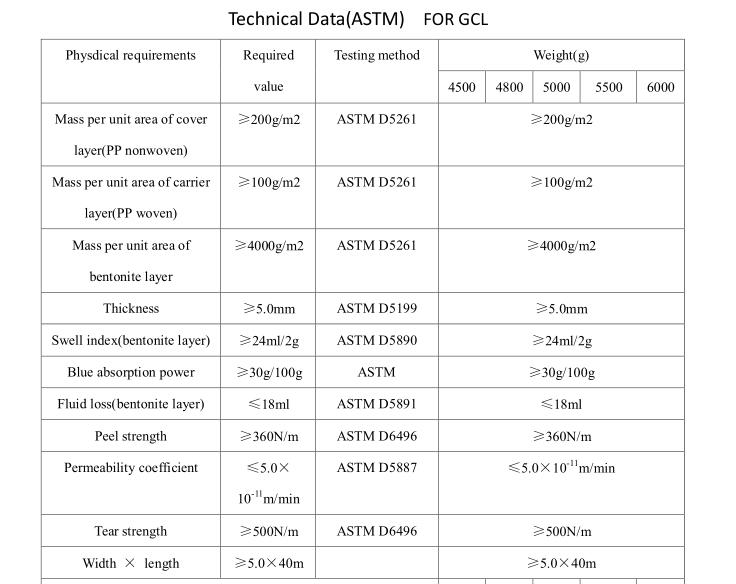 Part Three: The Application of GCL
This Bentonite production line is usded to bond 3layers of top geotextile, middle bentonite sand, and down plastic woven film.
The water proof bentonite pad is mainly used in penetration-proof,airproof &separation in rubbish burying square,man-made lake,channel,pool,basement,subway,etc.
The production line processing of finished products with high peel strength, strong pulling hardness, low permeability.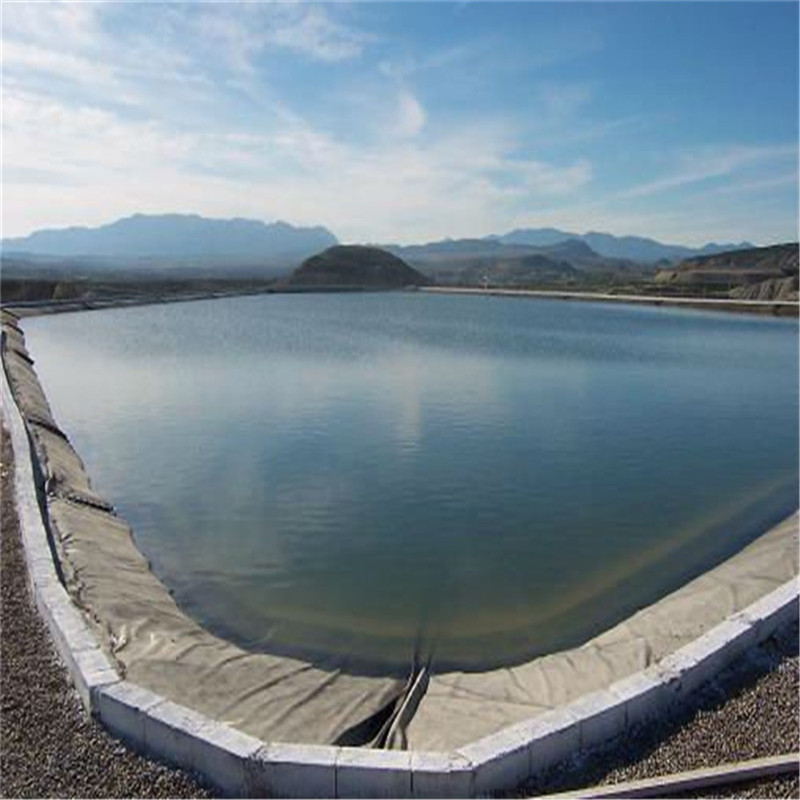 Part Four: Certificate

Part Five: others
Packaging & Shipping
The Packaging of Hdpe Geomembrane
woven bag or as customers' requests
7 days after receive the advance payment
Part Six: Contact

Geosynthetic Clay Liner(Gcl),Sodium Bentonite Geosynthetic Clay Liner,Bentonite Geosynthetic Clay Liner,Composite Geosynthetic Clay Liner
Shandong Tianhai New Materials Engineering Co., Ltd , http://www.chinatinhy.com