Viewpoint: Xiangyang plots the largest hardware and electromechanical city in western Zhengzhou
Recently, the reporter learned from the Shenyang City Urban and Rural Planning Committee that the site of the Zhengzhou Jiasheng Electric Development Co., Ltd.'s largest electromechanical trading market, Zhengzhou Jiasheng Electric Development Co., Ltd. Xiangyang Mechanical and Electrical Products Exchange Center, has been approved, marking the official settlement of the project in Xiangyang.

The largest scale in western Zhengzhou It is understood that the project has a total investment of 500 million yuan and a total construction area of ​​93,000 square meters. After the project is completed and put into use, it can accommodate more than 300 merchants and manufacturers, and will become the largest hardware and electromechanical trading center in western Zhengzhou. .

According to statistics, the total output value of China's hardware industry reaches 500 billion yuan, and it grows at an annual growth rate of 20%. As an industry with full relevance to the national economy, the hardware industry has always been known as the "gold industry," and Zhengzhou has formed nearly 10 large and small hardware and electromechanical markets.

How much energy can be generated by the construction of the Fuyang Electromechanical Products Trading Center? Which market risks may it face?

The relevant staff of the Fuyang City Government said: "After the completion of the trading center, it will accommodate more than 300 merchants and manufacturers. By that time, it will realize sales revenue of 1 billion yuan. At the same time, it can effectively promote the development of local logistics and transportation, catering and accommodation industries. "

The person in charge of the project stated that they will attract high-quality enterprises and merchants through various channels to create a highly professional and high-grade electromechanical logistics center to meet the needs of the development of Zhengzhou metropolitan area.

The market is facing challenges for improvement According to relevant data, the hardware and electrical machinery market with a scale of more than 100 mu, including the electromechanical city under construction, has more than 400 in the country. The eastern region is mainly a manufacturing base, while the central and western regions are mainly to meet consumption.

The reporter saw in the Minggong Road electromechanical market that it was relatively standardized and mature. It was one of the relatively early and relatively large scale markets in Zhengzhou. The electromechanical products in the construction category were relatively complete. Later, due to the expansion of the road, a group of them were moved. However, it does not have much impact on the market.

A merchant told reporters that he has been here for ten years, the main customers are in the south, the location near the railway station is good, and the business is not bad. Compared to Ming Gong Road's market, the Liushan Electric Machinery Market on Yushan South Road appears to be relatively messy and the products are not complete.

Yan Ye, deputy secretary-general of the National Federation of Industry, Hardware, and Machinery, said that Henan, as one of the major consumer provinces, does not have a high overall level of the hardware and electromechanical industry. However, there is a huge potential for market demand. The key is to be professional and do enough services before the brand can be branded. Really big.

Liu Daoxing, deputy dean of the Henan Academy of Social Sciences, said: "Henan has a small hardware and electrical machinery consumer market, but the grade is relatively low, not scale and climate, now urgently need to build a high-grade, large-scale, specialized hardware and electromechanical in Zhengzhou. Wholesale market."

Mr. Lin, who has been in hardware business in Zhengzhou, Fujian province, has been in the industry for more than 30 years. He has witnessed the process of hardware and electromechanical industry with the gradual evolution and development of the market economy. He told reporters: "Zhejiang and Fujian and other coastal cities have a lot of high-end products that want to enter Henan. Zhengzhou's market position must insist on facing the whole country and make this market a bit bigger. More importantly, it is a higher grade."

Professor Li Xiaofeng of Henan University of Economics and Political Science put forward his own point of view from the perspective of commercial real estate: As a commercial real estate, according to international practice, including successful experiences in some regions in China, the prevailing profit model does not rely on the sale of properties but on the profit of holding properties. At present, domestic hardware and electromechanical market projects are both operators and developers. Market development is ideal. If it is only a developer, not an operator, then such a market will be difficult to sustainably develop.
The range of MASHINE cable drum trailers are equipped with braking and road lighting systems to conform with EEC Directives and are designed to travel fully laden at road speed - for safe and easy cable drum handling all MASHINE cable drum trailers are fitted with hydraulic hand pump operated lift/lower systems as standard.
When the cable drum is lifted and raised, mechanical locks ensure cable drum security in transit - suitable for LV, HV, EHV, fibre optic, street lighting and rail cable pulling and cable laying installations.
T&D meet the Cable Drum Trailer requirements of the DNO, utility and cable laying contractors enabling underground cable installations within the LV-HV power and telecommunications industries.
Cable drum trailers are available for low and 11-33kV high voltage cables, street lighting cables, BT cables and fibre optic cable installations.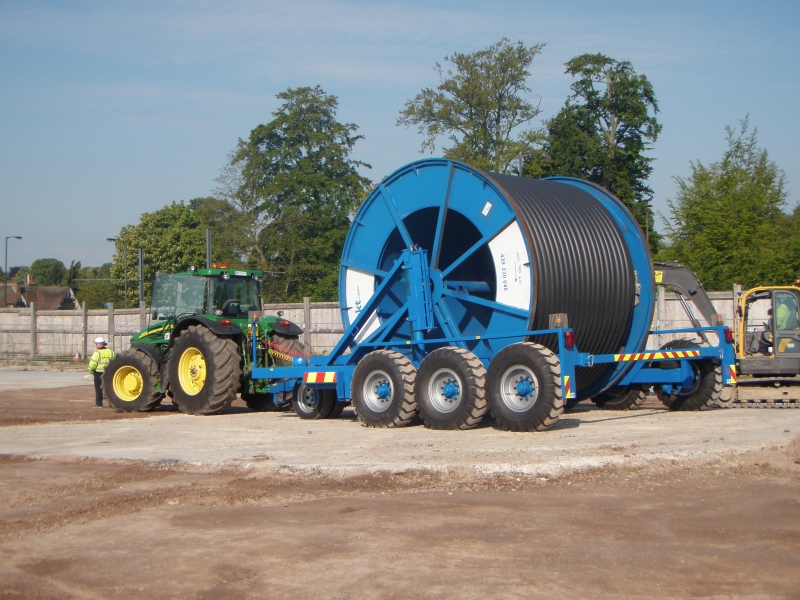 Cable Drum Trailer
Cable Drum Trailer,Hydraulic Drum Trailer,Cable Reel Drum Trailers,Extendable Trailer
NINGBO MARSHINE POWER TECHNOLOGY CO., LTD. , http://www.marshine-power.com